"L'année 2016 sera oukraïnienne ou ne sera pas"
La première pièce oukraïnienne à entrer dans le répertoire français. (

???

)

de
Mykola Koulich
traduction française de
Sylvie Gaire-Nelep
mise en scène de
Clément Peretjatko
19 h 30.
MEO
, 2, Passage Hennel, Paris 12°
Mykola Kulish, Sonata Pathetique

Dans sa préface à la traduction allemande de la pièce, Die Beethovensonate Ein Stück in 7 teilen aus der Ukraine 1917 (Berlin, 1932), Fridriech Wolf écrivait que La Sonate pathétique ne pouvaient se comparer qu'au Faust de Goethe et au Peer Gynt de Ibsen...
Mykola Koulich et les acteurs de la troupe de Les' Kourbas, "Berezil", Odessa, 1927
Première de la pièce dans la mise en scène de A. Taïrov, Moscou, 1931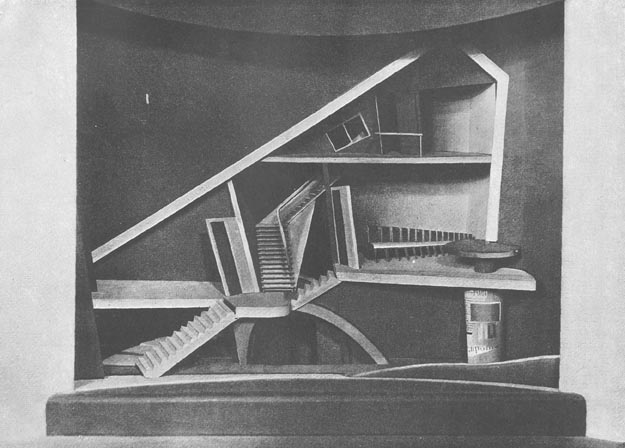 Décors de Vadim Ryndine, 1931
Faïna Ranevskaya dans le rôle de Zinka
Premier grand rôle de la grande actrice
Texte d'Ovram, interprété par I. Tverdokhlib
lors de la première en oukraïnien
mise en scène de N. Orlov, Odessa, 1959
Ivan Tverdokhlib dans le rôle d'Ovram, Odessa, 1963
Yaroslava Mossiitchouk dans le rôle de Zinka
A noter que l'auteur, Mykola Koulich, a servi de prototype au personnage du commissaire Danylo Tchaban dans le roman de Youri Ianovsky
Les Cavaliers
, traduction revue par Louis Aragon, Gallimard, 1957. Roman traduit de nouveau par
Ginette Maximovitch
, Dnipro, 1981.
Éléments de bibliographie
Tiffany Imogen, march 2014
Mykola Kulish
,
Sonata Pathetique
Translate by George S.N. and Moira Luckyj
Ukrainian Classics in Translation n°3,
Ukarainian Academic Press
, Littleton, CO, 1975
Lesia Ukrainka, In the Wilderness (1897-1909), Mykola Kulish, The People's Malachi (1928), Mykola Kulish, Sonata Pathétique (1930), Volodymyr Vynnychenko, The Prophet (1929), Ivan Kocherha, Masters of Time (1930), Liudmyla Kovalenko, The Heroine Dies in the First Act (1948), Eaghor G. Kostetzky, A Play about a Great Man (1948), Bohdan Boychuk, Hunger-1933 (1961), Oleksii Kolomiiets, Planet Speranta (1965), Valerii Shevchuk, Birds from an Invisible Island (1992)
CIUS, Toronto, 2012
Victoria Baena
,
Ukrainian Identity and Mykola Kulish's Sonata Pathétique
The Harvard Advocate,
Marko R. Stech
,
Mykola Kulish and the Devil: Exploring the Revolution as a Demonic Phenomenon
The Danylo Husar Struk Memorial Lecture 2011
Maria Popovich-Semeniuk
,
Sonata Pathétique by Mykola Kulish and The days of the Turbins by Mikhail Bulgakov : a literary dialogue.
Thèse de Doctorat, Université d'Ottawa, 1990
Mayhill C. Fowler
,
Mikhail Bulgakov, Mykola Kulish, and Soviet Theater: How Internal Transnationalism Remade Center and Periphery
Kritika: Explorations in Russian and Eurasian History, Volume 16, Number 2, Spring 2015 (New Series)
Valerian Revutsky
,
Mykola Kulish in the Modern Ukrainian Theatre
The Slavonic and East European Review, Vol. 49, No. 116, Jul., 1971
Valerian Revutsky
,
The Prophetic Madman: The People's Malakhiy - A Play by Mykola Kulish
Canadian Slavonic Papers, I, 1956
EuroMaidanPress
,
Ukrainians in Russia remember Ukraine's massacred elite
EuroMaidanPress, August 2015
Ihor Nabytovych
,
Modern Byelorusian and Ukrainian Literatures : 'Small', 'Incomplete' or Fractal Structures of the 'Big' European Literatures
Spheres of Culture, Lublin, 2012, Vol. 1.
Irene R. Makaryk & Virlana Tkacz (ed.)
Modernism in Kyiv. Jubilant Experimentation.
CIUS Press, Toronto, 2010
Irena R. Makaryk
,
The Perfect Production: Les Kurbas's Analysis of the Early Soviet Audience
Gramma - Journal of Theory and Criticism, "Shakespeare Worldwide and the Idea of an Audience", Aristotle University, 2007
Ulyana Yasinovska
,
The Importance of Theatre in the Development of Culture in Independent Ukraine
Foundation for Good Poitics, October, 2012